Discussion Starter
·
#1
·
We have a 2013 Town & country Limited with 430N RHB headunit. I wish we could just pull it upgrade to a newer unit but the kids love being able to watch movies. We were still running our 2013 map and had upgraded from the blue to black uConnect screen at some poin, v 4. I was messing with sideloading maps and backdated the mygig to v33.01.23. I spent many hours trying to follow all these different guides (thankfully Jeeps had these units as well) and Garmin's terrible documentation. These were app performed with 4, 8, and 32gb thumb drives formatted every time to FAT32.
Started here: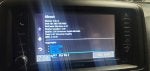 1.Update the uconnect software. This is the Bluetooth/handsfree.
2. Updated mygig to 50.01.01. Little did I know that this also upgraded my software version to 5.11 (I think, maybe 5.09). I spent a few hours trying to find a v5 update.
There are 3 different updates that this runs. I actually had to upgrade to 50.01.01 before I could update to software v5.11. So had to remove the thumb drive and do it again.
3. Go to Nav->Settings->Map->the lines in the left->Update. Insert blank thumb drive into head unit. Let it write the information. Download Garmin Explorer to your computer. It should discover the thumb drive and recommend an update to 5.19. I could not get this to work before upgrading to 5.09.
4. Once 5.19 is installed. Do the same procedure as Step 3 to get software version 7.11.
5. Load the new map as a supplemental map image called gmapsupp.img. You will lose your intersection views doing it this way. I got my 2023 map from total navi.
Ended here with the 2023 map showing:
Have patience. Some times these things can take 10-20 minutes.
Particularly this screen:
"PND did not update!" typically means you don't have new enough software/firmware to be compatible with what you are trying to do.
I did have 5.11 fail to install and seemingly lock my head unit into the Garmin splash screen. It could have been me not having patience. I turned the HU off. Went into the management menu by holding down "Radio", "Media", & "Menu." I was then able to force it to load the PND.
Video where I found this:
(35) How to find the Hidden Menu on Uconnect 430n - YouTube
I also had to freeze up one time trying to read a thumb drive. A quick power cycle didn't fix it. I had to turn the car off, open/close the door, and let it sit for 5-10 minutes to let it go to sleep.