Just curious if the later style teardrop headlights in the 2005-2007 LWB vans were noticeably better than the common earlier style. I only have experience with the earlier style. Logic says since they were updated on the highline models, lighting
must
be better but real world experience could tell a different tale.
I'm considering switching to the newer style lights if they are much better. I hit a deer that obliterated my right headlight. I had aftermarket black headlights and bright halogen bulbs that I was considering upgrading to LED. The newer lights require the newer harness pigtails along with the light housings and bulbs. I have to repair the harness anyway from the deer hit. Just figured it might be cheaper to buy used newer style housings and restore/customize them instead of buying another pair of black headlights that the price has gone up $20 in the last year. I thought about taking a regular light apart and painting it black/restoring the lens, but I see that the reflectors are different from the aftermarket one I have. Just trying to save money and time for a worthwhile upgrade.
Thank you for your consideration and experience.
Edit: Just found a pic of my van used on ebay for some black headlights. I was trying to see if I could find just a right side one.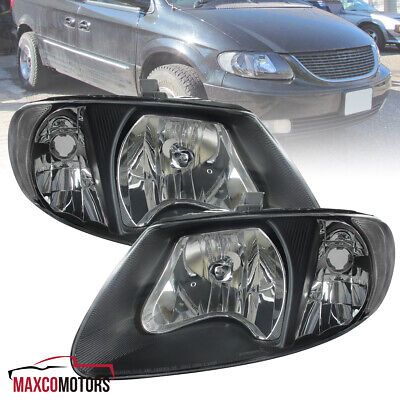 2001-2007 Dodge Caravan. 2001-2007 Dodge Grand Caravan. 2001-2007 Chrysler Town & Country. 2001-2003 Chrysler Voyager. 2001-2002 Chrysler Grand Voyager. (Do Not Fit 2005-2007 Town & Country Models With Extended Wheel Base (119.3")).