I wanted to post up a review of the WeatherTech Liners that I purchased for our new '11 Caravan.
Overall, the front liners are good. They should cover more of the dead pedal area like the Husky liners in my Caliber do, but otherwise they are good.
The rear liner is where the problem arises. When the seats are in their normal position, they are good and cover the majority of the carpet. However, as soon as you tumble either, or both of the middle seats forward to allow access to the back row, the mats get all messed up. What happens, is that the middle seats slide towards the middle of the van by 2-3" and thus push the liner around.
Here are some pics:
Normal seating position:
Seat folded forward:
Seat starting to tumble forward:
Seat tumbling forward:
Seat tumbled forwards:
Both middle seats tumbled forward:
As this obviously doesn't work well, and its annoying having to explain to passengers that my expensive new liners aren't designed properly. So I called WeatherTech and asked if they knew about this problem. The gentleman that I spoke to had not heard of this yet, but directed me to send an email with some pictures. So i sent them the above pictures. I heard back from them this week, and basically the engineers were very lazy in designing these liners. They made the assumption that people would get to the back seat by walking down the aisle between the middle row seats. Obviously that doesn't work, as that is just awkward and too narrow for
our
use. So basically I have two options with these liners - Cut them so that they stay in place when you tumble the middle seats or take them back and try and find generic mats that will work. I'm thinking that I will go ahead and cut them so that they stay still when the seats move.
Anyways, I just wanted to provide the community with some feedback on these mats, incase anybody else was thinking about buying them.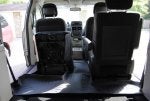 Here's what I now have as I wasn't happy at all with the weathertechs - I bought a full set of Husky Liners and I'm very happy with them - http://forum.chryslerminivan.net/sh...Weatherbeater-Floor-Mat-Review-(Picture-Heavy)